Sam Yuen, an MPhil student from the School of Chinese Medicine (SCM), has scooped the 2019-2020 Sir Edward Youde Memorial Fellowship for postgraduate research students, making him one of the three awardees from the eight UGC-funded universities in Hong Kong. Sam will receive a grant of HK$50,000 to support his academic research.
Sam's research interest lies in movement disorders such as Parkinson's disease. He plans to investigate the efficacy and feasibility of an integrated care model combining Chinese medicine and conventional treatments for curing Parkinson's disease through clinical trials. The results of his research will enhance treatment quality and benefit Parkinson's disease patients. Sam also plans to continue his PhD studies at HKBU as he finds SCM to be one of Hong Kong's foremost research schools for investigations into neurodegenerative diseases.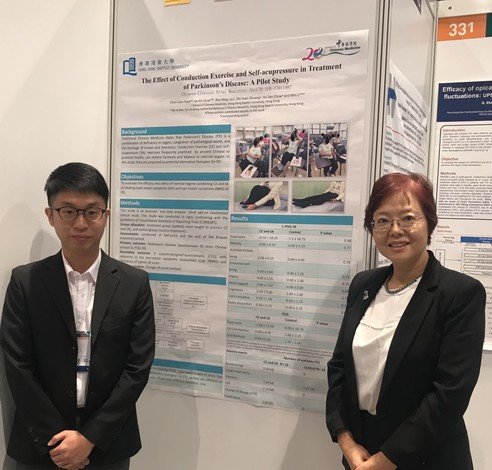 Sam Yuen (left) thanks his supervisor Professor Li Min, Associate Dean of SCM, for her guidance.